Jack Posobiec has been impersonating his unborn child, "@babyposo" to spread dangerous conspiracies in a blatant violation of Twitter's Terms of Service. Exploiting the fetus's account allows Mr. Posobiec to maintain his verified status, while still running massive misinformation campaigns that would otherwise get him permanently banned. This "child weaponization" tactic is also employed by Mr. Mike Cernovich, who often uses his young child as a way to shield himself from his detractors.
Correct. Posobiec does have a verified. But he gets criticism for discussing conspiracy theories on a verified account. Solution? Uses the unverified baby account to get around the rules. Shady as hell, but unless there's an ISP rule, I think it's allowed.

— Onesecondname (@Onesecondname) March 18, 2018
Mr. Posobiec's "child" frequently tweets conspiracies about white genocide and the Las Vegas shooter.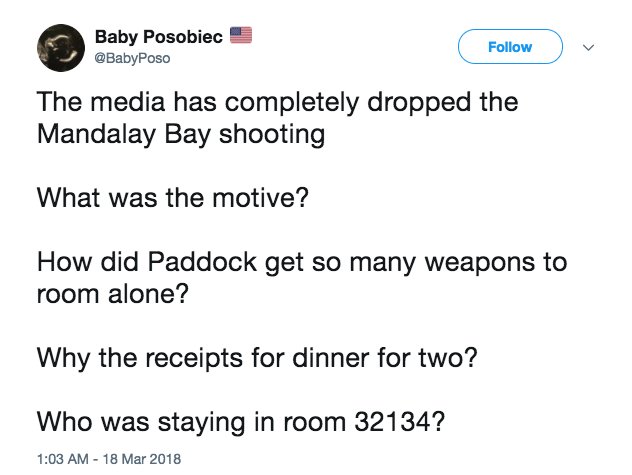 According to many reports, Mr. Posobiec's usage of the "babyposo" account has created a significant rift between he and Mrs. Posobiec, "The Posobiecs relationship has been cold as ice since Bumblegate. His wife doesn't approve of the fetus tweeting at all, Jack does it behind her back. He's really lost her trust with all this sneaking around."
Impersonating another user is not the only violation of Twitter's rules that "@babyposo" is guilty of. Users under the age of 13 are not even allowed on the site.
Sources close to Twitter's brass believe, "Not only is this a sick, morally corrupt act, but it is also against the rules of the platform. A swift removal of the Posobiec account(s) should happen any day now."
The Babyposo account is an open, on-going investigation. More details will be released as they are provided to Bernard Media's investigative unit.
Forward any tips to: @nathantbernard on Twitter or nathantbernard@gmail.com
"I want to see you out that door. Baby, bye, bye, bye." -NSYNC