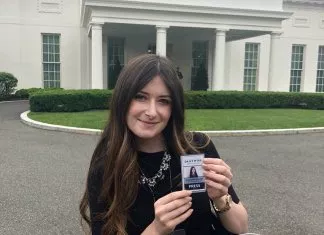 Ben Shapiro retweeted a photo of his newest employee today, Kassy Dillon, where she was standing in front of the White House. Dillon says, "I am excited to be joining the Daily Wire team!" Her next tweet was from inside the White House Press room. This tweet and Shapiro's retweet have led to wide spread specualtion that the Daily Wire, Shapiro's media outlet, has obtained a White House press pass.
I did not realize Ben Shapiro's Daily Wire had a WH press pass. Learn something new about the hell world we are living in every day! pic.twitter.com/7rMzkGFZG9

— Nathan Bernard (@nathanTbernard) May 30, 2018
Fans of Shapiro were shocked, "I love Ben, but he spreads a lot of 'facts' that aren't bound in truth. Like that there are 680 million radical muslims. Applying the title of 'fact' to these theories is a bit dangerous, especially with that sort of access to the White House."
Critics took to Twitter to share their disdain over this newly acquired pass.
Is there a booster seat in the back so @benshapiro can see the podium?

— Todd Orodenker (@ToddO243) May 30, 2018
Ben did a super job at the WH today. Where does he get those little suits? pic.twitter.com/OYpyoxTtb4

— Old Man G (@OM_G_Gaming) May 30, 2018
The Daily Wire's first White House coverage sets the stage for the beat they will be following.
Kim Kardashian just entered the West Wing.

— Kassy Dillon (@KassyDillon) May 30, 2018
The Daily Wire's White House access is an open, on going Bernard Media investigation. More information will be provided as it is made available.