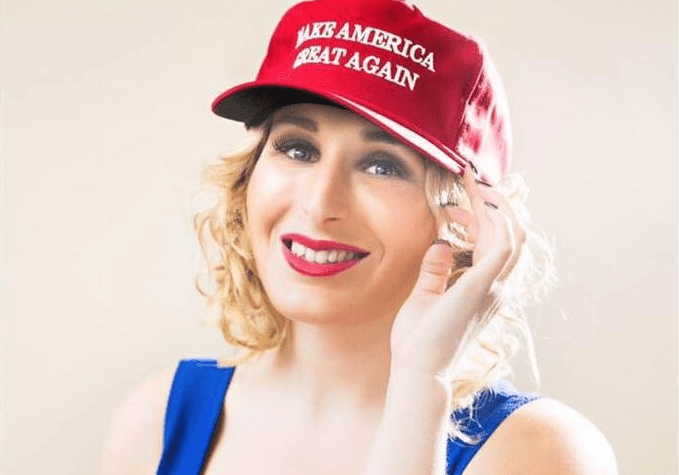 Things have not been going well for conservative "journalist" Laura Loomer. Over a year ago, Loomer lost her blue check verification on Twitter. Every day since, Loomer has tweeted some variation of, "Please give my verification back, @jack." Much to her chagrin, the blue check verification has not be re-instated for Laura.
On the heels of her unverified status, it became public knowledge that Loomer allegedly co-starred in a sex tape with Mike Cernovich. "If Mr. Cernovich does have a sex tape it must be somewhat old material," Cernovich's counsel explained to Bernard Media when the news broke.
For a time, Loomer embraced the tape, even suggesting that since fundraising is hard these days she would be open to selling the tape on her website. "cc: @rollingstone, whenever you get a copy of my supposed sex tape let me know because I want to sell it on my website," Loomer tweeted. "I heard the porn industry is very profitable."
Now, in an effort to redeem herself Loomer has announced she will be running for Congress in 2020. "When I run for Congress in 2020, I will only have to rely on the people to vote me in. I won't have to struggle everyday to get support for my journalism from those in Conservative elite circles who ignore me. Journalism is my passion, but Conservatives have failed to support those who fight hardest for them. So I will take my talents to Washington in 2020. I can be ignored everyday while working 20 hr days as a journalist, but in Washington, people will be forced to work with me."
Sources close to Loomer, with knowledge of the situation spoke with Bernard Media about why she is running. "Honestly, I think she just wants the attention. That's the type of person she is. It's also a really great chance for her to get re-verified on Twitter, she thinks at least. Not sure of what the chances are of that happening, but she says it's worth a shot. She also has that sex tape with Cernovich or whatever that she may start selling? I don't know, the congress run is something for her to do, she has a lot of free time."
Other sources that know Loomer personally had another angle to share with Bernard Media. "It could be that she just wants some friends and social interactions out of this whole thing. Laura's life is consumed with tweeting hundreds of times a day, usually for around 20 hours straight. She believes this will force people to hang out with her. Maybe that will work out for her. Everyone needs a friend."
Bernard Media will continue to monitor Loomer's campaign and the reasoning behind it. More information will be published as it is made available.