Ben Shapiro is a Daddy's boy. Since Ben was in high school, his father, David Shapiro, has ensured Ben's feelings weren't hurt.
In an article with Slate, Ben recalls one instance where Shapiro Sr. stepped in during his youth, "My dad came into the room where the kids who'd done this (bullied) to me were, and the rabbi started talking, and my dad said, 'Shut up.' And then he said to the kids, 'I have a ball-peen hammer in the back of my car and I will take it to you if you ever touch my son again.' He did not actually have a ball-peen hammer in his car. That's a pretty indicative story of who my dad is. Those kids didn't bother me from then on."
You'd think that just like wetting the bed, Ben would outgrow the need to have his Dad stand up for him. But that didn't happen. In March 2016, it became public knowledge that David Shapiro was writing articles such as, "Ben Shapiro Destroys Jon Oliver," and "Ben Shapiro Destroys Islamic Sarsour Defender," under the pen names, "William Bigelow and Hank Berrien," for Breitbart.
Now, evidence has been released that an anonymous, anime-obsessed Twitter account that frequently parrots Shapiro's talking points is also being run by Ben's father. The account, Neontaster, was outed two days ago on Twitter.
Hearing from several trustworthy sources that the @neontaster account is run by @benshapiro's dad. Evidence I'm looking at is very convincing. More soon. pic.twitter.com/O71yf67il8

— Nathan Bernard (@nathanTbernard) July 3, 2018
After the initial tweet was released, DMs came to light showing Neontaster referring to his email as "[email protected]," the same email used by Ben Shapiro's father during his Breitbart days.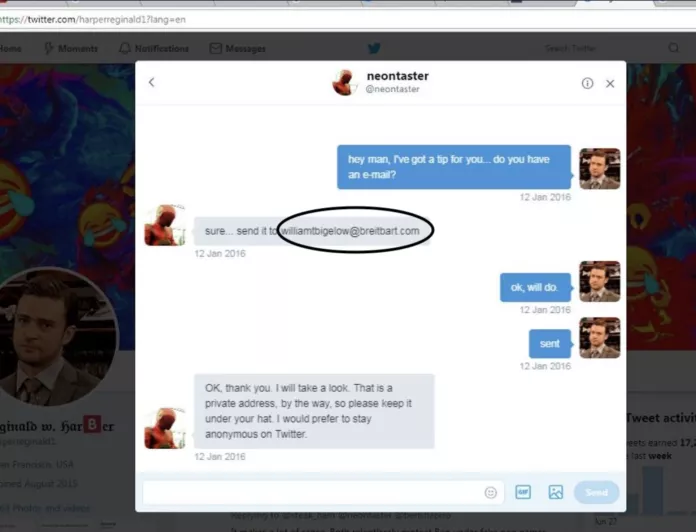 The conservative backlash to these findings was immediate and absurd, with multiple outlets coming to Shapiro's defense, who was allegedly very embarrassed about these findings.
A day later though, Shapiro decided to throw in the towel and admit Neontaster was in fact his father.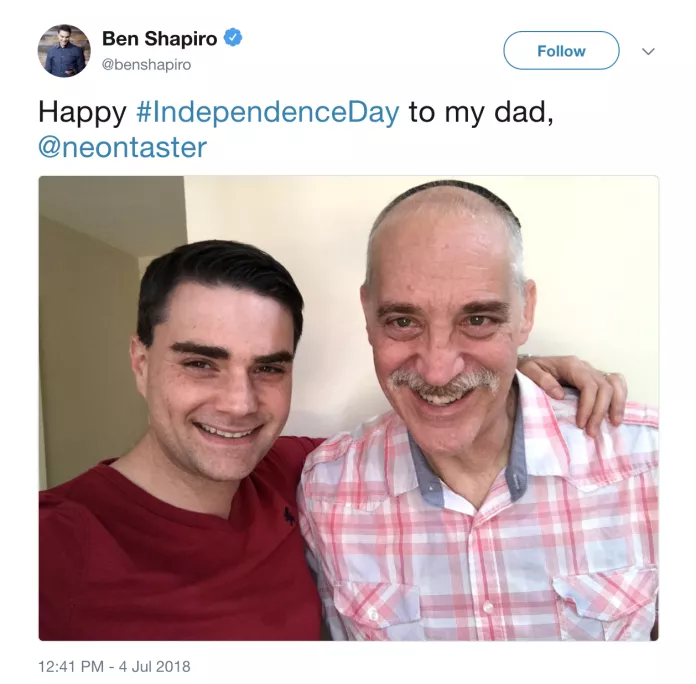 Fans of Shapiro that chatted anonymously with Bernard Media were fascinated, but not surprised by the admission. "Yeah, it makes sense. That Neontaster guy is always backing up whatever Ben says. I didn't think it was his dad though, just a fan boy. Now that we know it is Ben's father, a lot of the tweets make a lot more sense. Glad this was brought to light."
Other frequent Twitter users speaking to Bernard Media were still skeptical though. "For one, I think that picture of Ben with his dad from July 4th was photoshopped. Look at the one that was initially shared at the ball game, he's much shorter there. It doesn't add up. Otherwise, the fact that Neon is his dad totally makes sense. The constant pro-Shapiro tweets mimic what Ben's dad used to to do. Makes all the sense in the world from that perspective."
Glenn Beck, a conservative commentator, also seems to agree that Ben Shapiro's Dad is running the Neontaster account.
@benshapiro has one of the best fathers I have ever met.
He is a kind and generous man. How different our world would be if we all had fathers like @neontaster. Don't let this postmodernist BS fool you. Real men become great fathers to young men that change the world. https://t.co/nZ1DrdnVpU

— Glenn Beck (@glennbeck) July 5, 2018
The discovery that Neontaster is Ben Shapiro's dad is an open, on-going Bernard Media investigation. Additionally, BM will be launching an investigation into Shapiro photoshopping pictures to make himself look taller. Information will be released as it is made available.